Congratulations to the winners of our Uber Kids-Britax Romer car seat design competition – Humairaa (aged 2) and Adrienn (aged 7). We had some incredibly creative car seat designs sent in from children with eye-catching design features; and you can see the winning designs below.
winners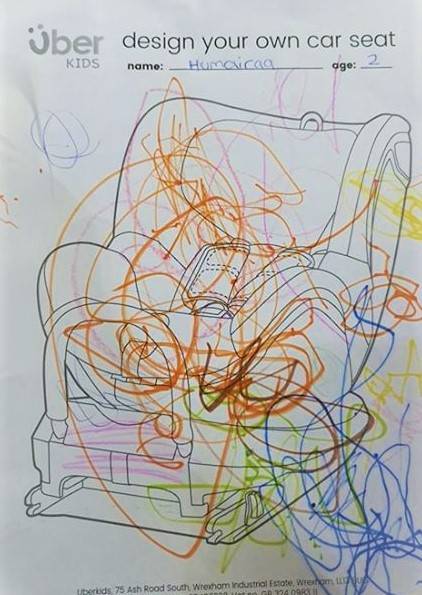 0-4yrs
Humairaa - 2 years old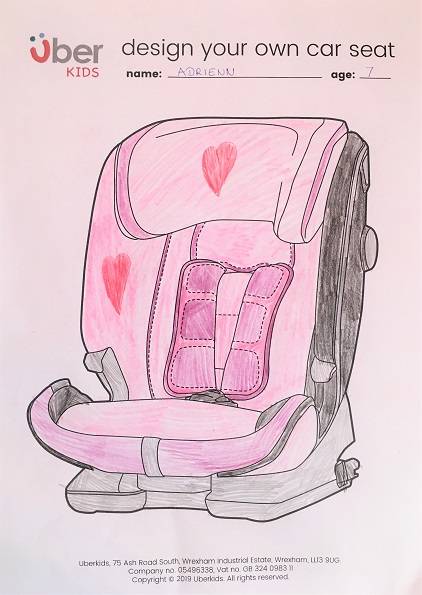 4-12yrs
Adrienn - 7 years old
car seat safety
It is a legal requirement for all children under the age of 12 or under 4ft 5in tall to use a car seat for their own safety. We all want to keep our children safe, but many – especially first-time parents – are unaware of the regulations, how to fit a car seat and also when to move their child out of one model and into a larger, or different type of car seat. To help all parents, we've compiled this handy guide to car seat safety to answer some of the most common questions and concerns.
laws
In September 2006 it became compulsory for children under 12 years of age and/or 135cm (4ft 5in) tall – whichever comes first – to use the correct car seat in the front or rear of any car or van.
All child seats must be fitted using either ISOFIX mountings or a diagonal seat belt.
There are some exceptional circumstances which permit children to travel without a car seat, including:
In a taxi – but a seat belt must be worn and the child must be in the back of the vehicle
Over a short, unexpected journey – if the journey is essential a child aged three or over may travel without a car seat using an adult seat belt
fitting
Make sure the seatbelt passes through all the correct guides on the child seat (the blue guides if it is rear-facing seat and through the red guides if it is forward-facing.)
Push your weight into the seat as you tighten the seat belt to make sure the seat is securely held – there should be no slack.
Some child seats have a lever or button to tighten the seat belt once it has been threaded through.
Many seats have a lock-off device to prevent the seat belt slipping once it has been tightened - make sure this is in the lock position.
The child seat should rest firmly on the car seat, with minimal forward or sideways movement.
Check the seatbelt buckle is not resting on the child seat frame (known as 'buckle crunch').
sizing
Children must use a rear facing car seat until they reach 15 months old, and a rear facing car seat should always be fitted in the rear of the vehicle.
Once they reach 15 months their necks are usually stronger and it is now safe to use a forward facing car seat.
Children weighing more than 22kg in weight or who are taller than 125cm in height can use a backless booster seat instead of a child seat.
Discover Britax Römer
Since the development of the first Britax Römer child car seat over 50 years ago, more than 500 employees work every day to make every new product even safer. We know how important it is to protect precious children, because we are parents ourselves.
Discover our wide range of Britax Romer products here.
Made to protect
During the development process a child seat undergoes various tests over and over again. In addition to continuous crash testing on one of four of our test facilities in Europe, the seat is also tested virtually. We use Computer Aided Engineering (CAE) to reconstruct detailed crash simulations virtually. This gives us detailed insights into the effects of an accident.
But even when the seat is in serial production, testing does not end. We test seats from production on our crash test facilities at regular intervals and test the harness and other safety components as well.
Made with care
Our philosophy is to provide the highest quality products to our customers, going far beyond the legal standards for purity and cleanliness. From rigorous independent testing at multiple stages during manufacture, to minimum requirements that go far beyond the legislative guidelines, to the strict quality control standards we set for every partner we work with. The efforts we have made in this area over the past few years have been recognised by consumer tests such as Stiftung Warentest in Germany, where we continually receive the highest ratings in the chemicals category.
Made in Europe
With our strong German and British heritage, Britax Römer is committed to manufacturing in Europe. All of our car seats are engineered, styled and tested in Germany. Approximately 90% of our car seats are made in Europe; approx. 60% are made in Germany and approx. 30% are made in the UK.
The production of our seats is carried out manually. That way we can ensure that every screw fits perfectly and that a safe product is created. Experience plays an important role at Britax Römer – some of our production employees have been part of the team for 35 years.
Working with our suppliers, we request the shortest possible transportation routes. This creates synergies and improves collaboration during product development. Last but not least, we are setting a strong standard for sustainability and improved CO2 balance through short transportation routes and reduced packaging materials.
Independent validation
Our efforts are recognised regularly by consumer test organisations such as Stiftung Warentest/ADAC & Which?, where we continually receive the highest ratings.
Euro NCAP is one of the toughest independent test environments as they crash vehicles in real-life accident scenarios. It is gratifying to know that Britax Römer is the car seat of choice for car manufacturers when testing their vehicles at Euro NCAP. In 2017, more than 95 percent of cars (60 out of 62 vehicles) were successfully crash tested by Euro NCAP using a Britax Römer child car seat.
Britax Römer Protecting children on the road since 1966.